<![if !supportEmptyParas]> <![endif]>
After riding down to Monterey on a blistering afternoon, the air-conditioned exhibition halls housing the Robb Report's 2006 Concours de Elegance were an oasis for this overheated and underhydrated motorcyclist. The dark, thickly carpeted and elegantly appointed rooms of the Portola Plaza Hotel provided a refreshing contrast to the hot hell outside. On this Thursday before the races, owners of vintage bikes were still polishing and arranging their lovelies while bartenders were setting up, and upscale vendors were putting finishing touches on their booths. But if you've got a picture of the vendor scene at, say, an International Motorcycle Show in your head, you'll have to shake it loose. This was very different - by comparison, the difference between Nordstrom's and a flea market. It wasn't crowded with stands or people and there were oh, oooh such classy, pricey items to behold.
<![if !supportEmptyParas]> <![endif]>
Befitting its concurrence with the Moto GP, the 'elegance' on display was primarily two-wheeled. I've always associated beautifully restored vintage automobiles or motorcycles with a ' Concours' and this event fit that expectation. Vincents and more Vincents - Shadows and Lightnings - were everywhere. Most were shiny black restored-to-perfection examples. But some showed the original patina from the days they were still ridden hard. And ridden fast. Rolly Free's bathing-suit bike was there. This particular Vincent Black Lightening did 150 mph on the Bonneville Flats in 1948.
Rolly Free's Vincent - 150 mph in 1948
Ergonomically, this famous motorcycle makes the seat on a Ducati 999 look like an overstuffed sofa. Blending in with the Vincents was a beautiful Brough Superior.
Gene Brown and Brough Superior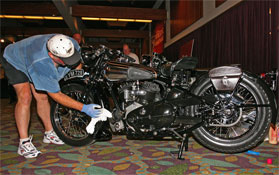 Owner Gene Brown, while applying polishing creme to it with a cotton-gloved hand, explained, "It runs. I ride it. I've driven it 289 miles." (Well, you wouldn't want to just look at it, would you?) But the bike that really grabbed me was a BSA single. Goldstars aren't that rare, of course. When you see one that is original in all respects, and the manufacturer's brochure that came with it is hanging on the handlebar, though, you take notice, and furtively wipe away that sliver of saliva seeping over your lower lip. This one also belonged to Gene. "I saw that bike at a show ten years ago. It had kinda disappeared. It's got one mile on it. I just got this bike. When I get it home, I'm gonna start it," he said. Brown may not be one for long sentences, but he sure knows the classic motorcycle scene. He travels from show to show, exhibiting motorcycles from his collection and more often than not comes away a winner.
<![if !supportEmptyParas]> <![endif]>
A classic heritage wasn't the only entre to the Concours. Claims to fame came in other forms, too. A sidecar rig that sped Batman and Robin through the streets of Gotham in hot pursuit of evil doers would be of interest now, wouldn't it? Of course it would. And there it was, looking as cool as it did in the 1966 epic "Batman - the Movie."
1966 Batmobile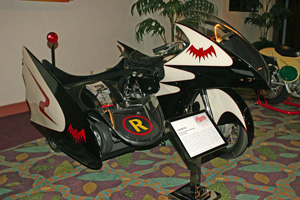 <![if !supportEmptyParas]> <![endif]>
Besides history and Hollywood, custom design was another avenue to the Concours. There were Harley-esque choppers with paint jobs that would win any "pimp my bike" contest hands down. Production motorcycles that were pretty good-looking to begin with were gussied up to look even better, or at least very different. At the extreme there were motorcycles that were custom from the ground up - for example the V-twin "Heretic" by the Colorado firm, Ecosse. As these floor models
Ecosse Heretic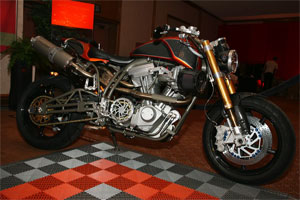 did not have grubby price tags hanging from the handle bar (the rule, "if you have to ask you can't afford it," renders price tags superfluous at a Concours de Elegance), one could only guess at what somebody who actually wanted to own one would have to pay. A little research on the web reveals that the Heretic starts at $50K and goes up to $140 K for those connoisseurs who value "a highly engineered chassis, massive torque, wicked attitude, sleek lines, exquisite detail and race-bred components in a refined package," as Ecosse describes their limited-edition creation.
Can I order this from Tucker Rocky?
(I was especially attracted to the brake lever and master cylinder assembly on the Heretic and would like to buy one. I'm sure it couldn't cost so much that I'd have to ask. Maybe I could order it through Tucker-Rocky.)
<![if !supportEmptyParas]> <![endif]>
Technical innovation was on stage too. My colleague from Gualala, Will Guyan, was there Friday night and writes,
Then, there was the unveiling of the fabulous C1 Motoczysz, attended by its talented creator and his team of geniuses. He explained the concept, the unique aspects, the time and money he spent, and the plans to race the bike this year sometime. He reports it is electric motor-smooth. Starting the machine in the closed room of the high zoot hotel was forbidden by the manager, but Michael Czysz asked the audience if they'd like to hear it run, and there was a roar as if the British army was facing the Zulus once again, and the roller-starter was rolled out and the magnificent machine was started, causing
Design by Michael Czysz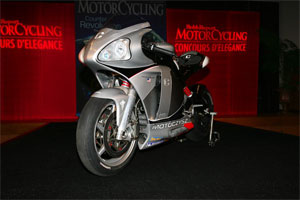 shudders of idolatry and awe among the hardened bikers in attendance. The machine spit fire onto the carpet of the dais and the sound was a symphony of precision explosiveness and engineered fury. Fifty examples will be manufactured in the next few years and sold for one hundred thousand dollars each. Step right up!
<![if !supportEmptyParas]> <![endif]>
The vendors scattered around the exhibition rooms offered an eclectic selection of motorcycle paraphernalia. Some of it was stylish but otherwise standard. One item offered safety and security. Airprotek International sells an air-bag equipped motorcycle jacket. When one considers the cost of a stay in a hospital or, worse, the pain associated with a serious get-off, wearing one of these jackets - and religiously hooking up the cord that triggers the air bag when you and the bike go your separate ways - seems worth the hassle.
<![if !supportEmptyParas]> <![endif]>
What sets this show apart from every other one I've attended is the exhibition of items that I, as a motorcyclist of only modest means, would not in my lifetime buy and am not sure I'd want if I could afford them. It's like the stuff you see advertised in the New Yorker between Thanksgiving and Christmas. Take watches, for example.
Watches, from $5K
How many different watch styles can you imagine that have in common a cost exceeding $5K? (Your guess is low by a factor of five.) I inquired about the centerpiece in one glass case. $90K was the answer. The salesman told me, however, that his boss was momentarily out of the country and that he had some flexibility concerning price. Actually, I think this particular watch represents a safety hazard for a motorcyclist. Light reflecting off the diamonds on the bezel could blind you at just the wrong moment.
And what are you made of?
Designer glasses designed to improve your style quotient and lighten your wallet were on display. And when you consider that we don't ride our bikes all the time, and that four wheels are occasionally practical, how about a Lamborghini? The Lamborghini's were parked next to the Heretic, which made sense as they both seemed to offer "a highly engineered chassis, massive torque, wicked attitude, sleek lines, exquisite detail and race-bred components in a refined package."
<![if !supportEmptyParas]> <![endif]>
This all seemed a bit weird to me. What's this stuff doing at a motorcycle show? The answer is actually quite simple and contained in another question. What is the Robb Report? The Robb Report is a series of publications about lifestyle, in particular the "luxury lifestyle." The items on exhibit and for sale at this Concours are components of a luxury lifestyle. Now, motorcycling is itself a lifestyle. Ipso facto, it all hangs together. This penetrating insight came to me because all the different Robb Report publications (private travel, yachting, sports and classic cars, etc.) were on display as well. (Can you believe, I asked if they were free before loading up my big plastic bag?) Looking through them to see what their articles cover and who their advertisers are suddenly put everything in place. It's all about luxury and lifestyle, and the motorcycle is just a part of this bigger picture.
Robb Report Publications on the Luxury Lifestyle
<![if !supportEmptyParas]> <![endif]>
There's still a tiny inconsistency here, however, and that has to do with luxury the nature of motorcycling. Motorcycles aren't like horses, for example. Horseback riding is purely a luxury lifestyle. I mean, who buys a horse to get to work? True, motorcycles aren't always ridden to work or to the supermarket. Some are taken out of the garage only for sport. But most of motorcycling isn't considered luxurious. I suspect the Robb Report realizes this. From the magazines I collected that day, I noticed all Robb Report publications have the word "luxury" on the cover with one exception, the one on motorcycling.
<![if !supportEmptyParas]> <![endif]>
Even though I'm a motorcyclist who rides to work, goes camping with my bike, rides it on dirt roads, and enjoys swap meets and flea markets - hardly luxurious tastes - I personally don't have a problem with the concept of a Concours de Elegance or the glossy heft of the Robb Report. I got a kick out of what I saw on the Concours and the Robb Report has excellent writing and photography, something I enjoy and even aspire to. I'm glad there's enough money sloshing around out there that advertisers will buy space in the Robb Report so I can read it and look at the pictures and they can afford to blow some cash putting on a Concours. We'd be poorer without this window on the luxury lifestyle whether or not, money aside, we would choose it ourselves.