NorCal Supermoto comes to Infineon
September, 2005
Photos - Sunday August 14

Out at Infineon Raceway on the weekend of August 13 and 14, AFM racing was in full sway. The parking areas and pits were jammed and you could hear the race bikes droning around the main track as an endurance race wore on and on. But way out at the far end of the track, just past turn seven, was a totally different scene. Here, the big RVs were parked high on the hill overlooking what seemed like a makeshift track consisting only of turns, and more turns. Some of those loops went up and down the side of an adjacent hill, on dirt. As at the neighboring AFM race, there were lots of riders and spectators, with bikes being torn apart and rebuilt under makeshift tents. The riders here, however, wore motocross helmets and rode machines that seemed a cross between a flat-tracker and a dirt bike. More often than not, the rider was also the mechanic. Welcome to Supermoto USA and the Nor-cal series.
This was a family affair, not just for racers and spectators, but for the staff as well. Brok McAllister organizes this series and leads the team of people, many who make it happen, many of them volunteers. His wife works in the race office, hammering on a laptop, while his kids run errands all day. In fact, there were kids all over, running and riding around. They were on little 50 cc bikes called Fast 50's (and so were some of their dads) and piloting ATVs to bring track equipment here and there. They were having a good time. I'd like to be around to watch them riding Supermoto ten years from now. There were some moms on the track, too - racing. One lady I talked with explained that her teenage son, for whom she'd bought the XR, had decided he was more interested in cars and girls. So she decided to start riding and has been racing Supermoto for the last year. Not placing yet, but not coming in last, either. And five years ago, just to give this tale some perspective, she was in a wheelchair, paralyzed from the waist down. She says racing is her therapy. Another racer, at most in her early teens, had a 125 that she wheeled around the track, falling down only when being lapped by the fast guys (and it wasn't her fault). And then there was Michelle DiSalvo.
A little asking around and I could find out fairly quickly who are the racers in competition at the top of their classes. I watched them dicing, staying close for lap after lap and then something would happen - a momentary lapse, a mistake, a missed turn, a crash (lots of these) and the lead would change. It's exciting for spectators, too, because while the
competition is keen, you can imagine yourself doing this. It's that down to earth.

Saturday was practice, and on Sunday two full sets of races took place between 11:30 and 5 pm, each typically 6-8 laps. The heat races in the first set determined the riders' starting positions in the second set. There are 13 different classes, from Beginner/Novice to Open Pro, something for everybody, and you can race without having to spend the kind of money needed for the racing going on next door on the big track. Cheap for spectators, too. Ten bucks and you could watch all the racing at Infineon that weekend.
That afternoon in the heat races I learned a few of the names and numbers to watch - Casey Yarrow, Andrew Dickson, Vincent Guisande, Leo Bagnis, Don Biava, and Michelle DiSalvo. (There are more, of course.) The Open Pro heat was as tight a race as I've ever seen. DiSalvo (197) got the lead and kept it, with Guisande (76), Dickson (88), and Biava (51) close behind and finishing in that order. Casey Yarrow, the rider sporting the number one plate, came in 6th. "197" was one of the numbers I was told to watch. Everybody said Michelle was FAST. That certainly was true for this heat race. Later I learned that she'd started racing at 11 and has been at it for 21 years, focusing on the dirt track circuit. Michelle is the first woman rider to make it onto the podium in a Grand National meet, and she's since been there five times.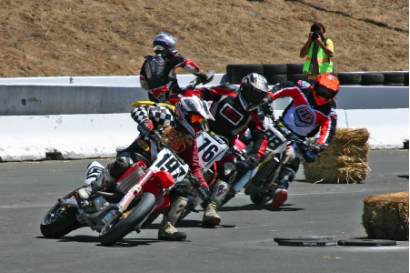 One of the trickiest places on the course, where the most pile-ups occurred, was the transition from dirt to asphalt, at a 180 degree corner at the bottom of the dirt hill, which sent the riders right back up the hill again. What made the turn so hairy was the thin dirt layer that built up on the pavement and never went away. No traction, nothing for a tire to bite into, and you're in a corner without much control. On the asphalt sections the bikes would drift into a corner, front wheel pointing away from the turn, back wheel hanging out, ready to high-side the rider if the tire were to stop sliding and grab. It's flat tracking, with the rider's inside foot flat, skimming the asphalt. On some of these same corners, the riders came in with a motocross approach - inside leg high, knee hardly bent, nearly horizontal and stuck out straight ahead. What's great about Supermoto (compared to road racing) is it's easier for spectators to get closer to the track and watch these fine points of racing style. The sights are different over here at the Supermoto course, and so are the sounds. I suspect there's a db limit for these bikes as there is over on the big track. But the sound of a thumper (or twenty thumpers) on the gas coming out of the start and heading into the first corner has its own unique appeal.
That starting order for the Open Pro main event that afternoon was the heat finish order, and DiSalvo came out fast, but soon lost the lead to Casey Yarrow, who never looked back. Vincent Guisande and Andrew Dickson finished second and third, just like in the heat race earlier in the day. Michelle DiSalvo came in fourth. Perhaps the fall she took in the 450 class, run a few events earlier where she finished 11th, may have contributed to her slower-but-steadier pace in the Open Pro. Don Biava moved to fifth place.
The Open Pro is clearly the Big Event, so it's natural to follow it with a race at the other end of the spectrum - the Fast 50's. I'd kept seeing this little bike with this big guy on it all day Saturday running around the track and then again in Sunday's races. There was a big noise and then this thing went roaring off. It reminded me of the opening scene in "On Any Sunday." Getting your foot into a flat track or motocross position in a corner isn't easy on a Fast 50 because your buns are only a foot above the asphalt. Some of the orthopedic contortions the Fast 50 boys came up with in the corners made me smile. Yes, I could imagine myself doing that.
There are more Supermoto races to come before the end of this season's series, and these will determine the winner of the open pro title, and top finishers for all the other races as well. If you get a chance to take in one or more of these events, don't miss out. You'll see why this form of racing is taking off in popularity.